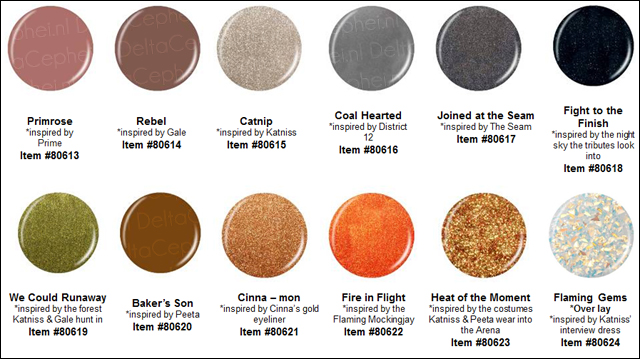 If you love role-playing The Hunger Games series, here's something something to take your fantasy to a new level! The popular nail polish company China Glaze is making a whole new collection inspired by The Hunger Games!
Officially collaborating with Lionsgate, China Glaze is releasing 12 gorgeous colors next year to correspond with the release date of the movie. The attached picture has both the finishes and the source of the inspirations.
I especially love "Primrose" (inspired by Prim); "Catnip" (inspired by Katniss); "We Could Run Away" (inspired by Katniss & Gale's forest); "Cinna-mon" (inspired by Cinna's gold eyeliner); "Fire in Flight" (inspired by the flaming Mockingjay); and "Heat of the Moment" (inspired by Katniss and Peeta's costume in the Areana). But really, I love them all!
Check them out and let us know if you'll be picking up a few of the polishes yourself!
Ad blocker interference detected!
Wikia is a free-to-use site that makes money from advertising. We have a modified experience for viewers using ad blockers

Wikia is not accessible if you've made further modifications. Remove the custom ad blocker rule(s) and the page will load as expected.