I don't know about everyone else, but I've always found Cinna to be one of my favorite characters in The Hunger Games.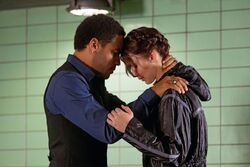 A Capitol citizen who basically made Katniss the "Girl on Fire," Cinna set forth the spark that became a rebellion. I've always loved Katniss and Cinna's interactions in the books and very much look forward to seeing it on screen.
Do you think this latest shot embodies their relationship?