Have you subscribed to The Hunger Games exclusive Youtube channel yet?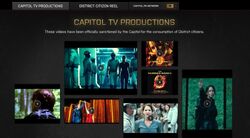 Titled Capitol TV Productions, the new Youtube channel kicked things off last night with this thrilling new clip featuring the memorable scene in which Katniss shoots her arrow at Seneca Crane and the other Gamemakers!
Take a look and sound off below!
Ad blocker interference detected!
Wikia is a free-to-use site that makes money from advertising. We have a modified experience for viewers using ad blockers

Wikia is not accessible if you've made further modifications. Remove the custom ad blocker rule(s) and the page will load as expected.