Aww, how cute is this? Josh Hutcherson, better known to us as Peeta, gives a simple thanks to the passionate Hunger Games fans for helping The Hunger Games Facebook reach 1 mil fans!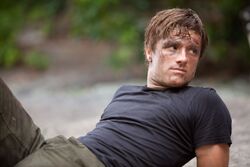 Simple and heartfelt, it's nice to see the cast reach out to its fans. What do you think, adorable or not?
Clip
Ad blocker interference detected!
Wikia is a free-to-use site that makes money from advertising. We have a modified experience for viewers using ad blockers

Wikia is not accessible if you've made further modifications. Remove the custom ad blocker rule(s) and the page will load as expected.