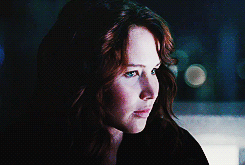 The newest Hunger Games trailer is out today! This full-length video (2:36 min) shows Katniss volunteering in place for Prim; Effie calling for The Hunger Games volunteers; Cinna, Gale, and so much more!
So far I see nothing that hasn't been taking straight out of the books. District 12, the Capitol, and vignettes of the tributes are all beautifully portrayed.
We've embedded the trailer below so watch it and tell us what you think!
Trailer