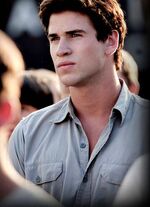 This scene definitely aims to tug at a few heartstrings. Whether you love Peeta or Gale, who isn't Team Katniss?
Watch this new clip of Gale and Katniss bidding each other farewell before she leaves for The Capitol!
Clip
Ad blocker interference detected!
Wikia is a free-to-use site that makes money from advertising. We have a modified experience for viewers using ad blockers

Wikia is not accessible if you've made further modifications. Remove the custom ad blocker rule(s) and the page will load as expected.