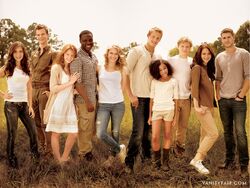 Ever since the annoucement of The Hunger Games (film), there have been many tie-in books that serve as "official guides" to The Hunger Games media. Scholastic just announced a new one specifically for the tributes today, titled The Hunger Games Tributes Guide.
According to this press release from Scholastic:
The Hunger Games Tribute Guide is a comprehensive guide to the 24 Tributes participating in Panem's 74th annual Hunger Games. Readers follow the Tributes' journey from the Reaping to the Games, with a look at all the highlights along the way–the Tribute Parade, the stations of the Training Center, the interviews, and more. The book will include exclusive information about the Tributes' strengths and weaknesses, their weapons of choice, and their experience in the Capitol before entering the arena.
For people who wanted to know more about each of the tributes, here's your wish come true! It's amazing that we get an inside look into the lives of each of the tributes, whho of course aren't explored in depth in the original trilogy.
The book will be made available on February 7, 2012, a month before the movie. Will you be picking up the tributes guide? Tell us in the comments!
Ad blocker interference detected!
Wikia is a free-to-use site that makes money from advertising. We have a modified experience for viewers using ad blockers

Wikia is not accessible if you've made further modifications. Remove the custom ad blocker rule(s) and the page will load as expected.