Comments

17
New Stills of Haymitch, Effie, Peeta, and More
With less than 2 months to go until The Hunger Games, stills are still coming fast and strong.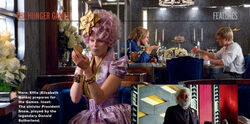 These latest set come from a magazine feature about the hypable Hunger Games. I'm particularly intrigued by the colorful shots of Effie and Haymitch with Peeta.
What do you think about these new photos?
Gallery
Source