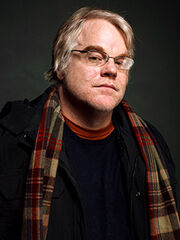 Who's the replacement for Seneca Crane? In the books, it's Plutarch Heavensbee, new Gamemaker for The Hunger Games. On screen, it may just be acclaimed actor Phillip Seymour Hoffman.
The actor was just asked to portray the politically savvy and later rebel Gamemaker for Catching Fire, and perhaps Mockingjay, although he has yet to agree to the role
What do you think about this casting choice? Can Hoffman pull it off?
UPDATE
Update! Phillip Seymour Hoffman is officially Plutarch Heavensbee according to Lionsgate! Get your first look now!
Source
---
---
Ad blocker interference detected!
Wikia is a free-to-use site that makes money from advertising. We have a modified experience for viewers using ad blockers

Wikia is not accessible if you've made further modifications. Remove the custom ad blocker rule(s) and the page will load as expected.