Hey all!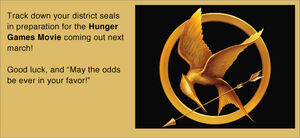 Have you noticed that there's a new page on The Hunger Games Wiki for a Scavenger Hunt? Wikia decided to put together this fun game in honor of the upcoming Hunger Games!
Loaded with trivia questions and fun facts for true Hunger Games fans, the Scavenger Hunt is a fun way to test your Hunger Games knowledge! We hope you enjoy playing it, so let us know what you think!
Click here to get playing and may the odds be ever in your favor!