My Name is Katniss Mellark. It's been 10 yers since the games. I thought my family was safe. I was wrong. Our world fell apart, and the only thing I wanted was... Revenge.
Based on my comic strips series here: http://www.bitstrips.com/user/LG4S3/read.php?comic_id=CWPN9&subsection=1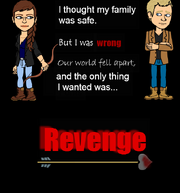 Ad blocker interference detected!
Wikia is a free-to-use site that makes money from advertising. We have a modified experience for viewers using ad blockers

Wikia is not accessible if you've made further modifications. Remove the custom ad blocker rule(s) and the page will load as expected.