I decided to start reaping tributes for the 101st Hunger Games. Since the 100th Hunger Games is going on, I can't decide when to start this 101st Hunger Games. I'll just start reaping, that's all.You can only reserve, the tribute's names cannot be heard until after every spot is reserved, and you can only select up to two tributes FROM THE SAME DISTRICT.
YOU CANNOT CHOOSE THE SAME DISTRICT YOU USED FOR MY 100TH HUNGER GAMES.
everdeen got 4 spaces cause her tribute won the last Hunger Games.
THERE WILL BE CHARIOT RIDES AND INTERVIEWS.
Reaping Results

| | | | | |
| --- | --- | --- | --- | --- |
| District | Name | Age | User | Place |
| D1 Boy | Mica Choi | 12 | hungergamesforever | 7th |
| D1 Girl | Minerva Silver | 13 | hungergamesforever | 7th |
| D2 Boy | Syr Wrath | 15 | Brony12 | 7th |
| D2 Girl | Bliss Creme | 12 | Brony12 | 7th |
| D3 Boy | Tristen Tropic | 16 | everdeen | 15th |
| D3 Girl | Dawn Bliss | 16 | everdeen | 2nd |
| D4 Boy | Wawa Lake | 15 | QuinnQuinn | 7th |
| D4 Girl | Ariel Boyell | 14 | QuinnQuinn | 7th |
| D5 Boy | Marco Smith | 12 | Genesis100 | 17th |
| D5 Girl | Evelyn Demeana | 16 | Genesis100 | 21st |
| D6 Boy | Hinder Black | 17 | Granger1000 | 22nd |
| D6 Girl | Belle Lu | 12 | Granger1000 | 5th |
| D7 Boy | Mavin Ross | 18 | super.cute.kitten | 13th |
| D7 Girl | Ginny Amber | 12 | super.cute.kitten | |
| D8 Boy | Kente Nole | 13 | Everdeen | 16th |
| D8 Girl | Sally Satin | 13 | Everdeen | 3rd |
| D9 Boy | Terra Draco | 15 | migora4329 | 14th |
| D9 Girl | Flora Flemming | 18 | migora4329 | 20th |
| D10 Boy | Harris Jon | 17 | ilovepeeta | 6th |
| D10 Girl | Puhnk Pink | 14 | lovepeeta | 19th |
| D11 Boy | Sam Blah | 17 | Rueflower | 18th |
| D11 Girl | Blue Ghost | 14 | Rueflower | 4th |
| D12 Boy | Michael Benn | 15 | Reaper1002 | 24th |
| D12 Girl | Lily Todd | 15 | Reaper1002 | 23rd23rd |
Map
A huge forest with a marshy feeling to it. It's in the mountains, and a few deserted cabins are there.
Chariot Ride
Claudius Templesmith: The stylist have worked furiously to help achieve their goals. Now let's start the Chariot Ride!
District 1
District 1 comes out with black horses and a black carriage....I wonder what they'll be wearing...Oh look! Look at those flying colors! Out comes.....
MICA STONE: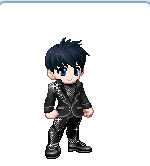 MINERVA SILVER: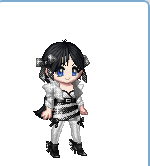 Minerva: I'm nervous Mica, and these clothes are itchy.
Mica: Oh relax, it's only a brisk walk to the training center, when you get in the training station, you'll feel better.
Minerva: Thanks... Personally, I hope you win...
Narrator: The audience goes wild!!!!!!!!!
Mica: No, you should win, because I'm too worthless in this world.
Minerva: You're not worthless, you're good!
Mica: Relax, relax, I think the other tributes will look silly compared to us.
District 2
District 2 comes out with white horses and a pink carriage...Out comes..........
SYR WRATH: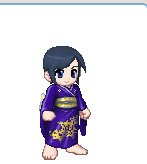 BLISS CREME: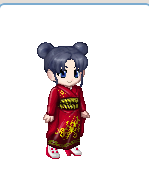 (crowd starts laughing and cheering)
Syr: Seriously, I look ridiculous in this suit. I look like a girl!
Bliss: Don't worry, at least you don't have to wear HAIR DYE LIKE I DO!
Minerva: *giggle* You're right Mica, the other tributes look ridiculous, especially the boy dressed like a girl!
Mica: Who?
Minerva: The one with the purple suit on.
Mica: OMG AND HE'S FROM DISTRICT 2? He should be in 12!
Syr: Those District 1 snobs are joking about me!
Bliss: Relax, they must be talking about the weird outfits the crowd is wearing.
District 3
Wow, it's been amazing so far. Let's see what District 3 has in store. They're coming with green horses and a black carriage. Let's see what they are wearing.
TRISTEN TROPIC:
DAWN BLISS:
Dawn: I loved my yellow hair! WHY WOULD THEY MAKE ME WEAR BLACK HAIR!!!! THERE'S FREEDOM OF SPEECH HERE!!!
Tristen: Please be quiet Dawn.
Dawn: WHY?
Tristen: It's a sign of rebellion.
Bliss: Now they, Now they look ridiculous.
Syr: (chuckle) I know they're like space freaks!
Mica: OMG I CAN'T STOP LAUGHING
Minerva: It's not funny.
Mica: Wha.....
Minerva: THEY LOOK LIKE COMPLETE WEIRDOS.
Dawn: SHUT UP YOU CAREERS YOU LOOK EVEN FREAKIER!
Tristen: DAWN WILL YOU KEEP YOUR MOUTH SHUT?
District 4:
Looks like a good competition out there. Now let's see the next district. They're coming in a blue carriage pulled by blue horses. Here comes......
WAWA LAKE:
ARIEL BOYELL:
Dawn: NOW THAT IS WHAT YOU CALL A FREAK! THAT IS THE ESSENCE OF FREAKINESS! SEE?
Tristen: DAWN KEEP YOUR BIG MOUTH SHUT! Here take this (puts gum in Dawn's mouth).
Dawn. (You'll pay for that....)
Ariel: OMG I FEEL SO NAKED
Wawa: It's ok Ariel at least you're not wearing bunny slippers.
Ariel: OMG YOU ARE SUCH A BOY!
Wawa: Er......
Syr: Looks like all the tributes are getting into fights.....
Mica: Wow.................
District 5
Narrator: Er... enough about that now let's get to the District 5 tributes! Here comes...
MARCO SMITH: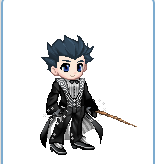 EVELYN DEMEANA:
Mica: Woah......
Syr: Woah....
All the girl tributes from 1,2, 3, and 4: Marco's so handsome!!!!
Marco: See, they're admiring me. Unlike you, who slaps me all the time.
Tristen: Woah....look at Evelyn.....(cheeks get red)
Dawn: (slaps) YOU'RE SUPPOSED TO BE MY BOYFRIEND!
Tristen: Er...sorry...
Dawn: Wow............Marco is so cute.......
Tristen: What did you say about being my girlfriend?!
Dawn: Er....sorry...
Evelyn: Ha, they're admiring me too! TAKE THAT YOU BLOCKHEAD!
District 6
District 5 left an impression! Now to district 6! Riding in a white carriage with blue horses with wings steps out....
HINDER BLACK:
BELLE LU: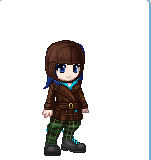 Belle: *blows kisses out to the crowd*
Hinder: Enough of that Belle. Please?
Belle: Okay. fine.
Marco: They're wearing the same thing. -_-
Bliss: How obvious.
District 7
Narrator: Belle Lu can really pucker up a crowd! Now to District 7! In a yellow carriage, pulled by black horses, comes...
MAVIN ROSS: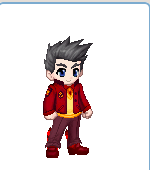 GINNY AMBER:
Ginny: Seriously, don't you think we're going to school?
Mavin: Yea, I know.
Ariel: Thank god. They look more ridiculous than me.
Minerva: THEY LOOK LIKE NERDS.
District 8
Enough about District 7! Now to District 8! In a red carriage, pulled by crimson horses, comes...
KENTE NOLE: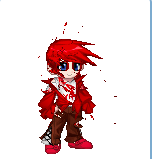 SALLY SATIN: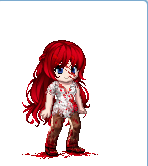 Dawn: OMG
Ginny: WTF???
Belle: Looks like blood.
All except 8: EWWWWW
Sally: OMG THE STYLISTS I HATE THEM
Kente: I know how you feel.
District 9
That was er..........hmm.......I don't know how to explain......Anyways, now to District 9! In a purple carriage, carried by pink horses, out comes....
TERRA DRACO: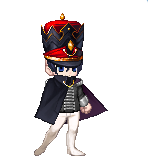 FLORA FLEMMING:
Flora: I look great! So do you Terra!
Terra: Thank you Flora.
All the girl tributes: Terra is so dreamy!!!
All the boy tributes: Flora is so cute!!!!
Syr: WHAT DID YOU SAY?
Dawn: WHAT DID YOU SAY?
District 10
Er, anyways, now to District 10! In a brown carriage, pulled by golden horses, out comes....
HARRIS JON: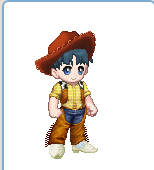 PUHNK PINK:
Puhnk: WAAH WHAT DID THOSE EVIL CAPITOL PEOPLE DO TO ME! MY HAIR IS....BLACK!!! (cries)
Harris: It's okay Puhnk, don't cry over spilled milk.
Puhnk: I AM NOT CRYING OVER SPILLED MILK! I'M CRYING ON A STAGE!
Harris: It was a figure of speech.
District 11
Now to District 11! In a red carriage, pulled by blue horses, out comes...
SAM BLAH: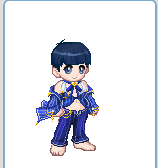 BLUE GHOST: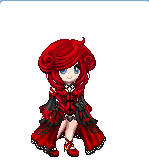 Blue: Wanna trade? I HATE THIS RED COLOR AND I LIKE BLUE.
Sam: No. This costume is a boy costume.
District 12
Last, but not least, District 12! From a black chariot carried by by yellow horses, here comes.....
MICHAEL BENN: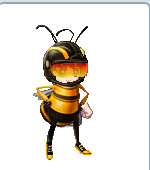 LILY TODD:
Michael: I look ridiculous.
Lily: At least we're not stark naked with coal dust on our skin.
Michael: What are we?
Lily: TRACKER JACKERS, YOU BLOCKHEAD.
Narrator: Now the tributes are entering the Training Center. Soon we'll have the training scores and the interviews!
Training Scores
Mica Stone- 10
Minerva Silver-9
Syr Wrath- 10
Bliss Creme-8
Tristen Tropic- 7
Dawn Bliss-8
Wawa Lake-6
Ariel Boyell-8
Marco Smith- 6
Evelyn Demeana- 7
Hinder Black- 6
Belle Lu- 4
Mavin Ross- 6
Ginny Amber- 9
Kente Nole- 4
Sally Satin- 6
Terra Draco- 7
Flora Flemming- 6
Harris Jon- 7
Puhnk Pink- 4
Sam Blah- 5
Blue Ghost- 8
Michael Benn- 1
Lily Todd- 4
Interviews
The Interviews have been cancelled due to technical difficulties with the microphone, which caused the stage to explode-ish. This is what happened.
Caesar: Now introducing Minerva Silver!
Minerva: Hi my name OWW!
Caesar: Sorry about that.
Minerva: I can't stand!
(spotlight falls)
Minerva: AHHHH!!!!
(curtain falls)
Caesar: Everyone get out!
(spotlight falls)
Lily: OMG
(truss falls)

Bliss: What happened?
(flagpole breaks into two)
Dawn: Who cares, let's get out!!!!!
(Whole stage collapses)
All tributes race out as fast as they can.
10 minutes later......
No audience, everyone is gone.Deaf trombone player is still there playing trombone.
Panem News: This is Cassie reporting to you live from the interview stage, or what used to be the interview stage. Looks like the microphone messed everything up and destroyed the stage. Here's what is left of the stage. (a trombone) .........
Day 1/Bloodbath
Belle Lu
After so many days in the Capitol, I was caught unprepared when I saw the marshy landscape ahead of me. I looked ahead and saw nothing but forest. How I long for the Capitol.
Ginny Amber
GONG* The gong just sounded. I race towards the Cornucopia, only to find a Career has raised his ax. He swung it and.... I don't feel any pain, and I find out that he missed. I grab his pack and run.
Mica Stone
Dang it! I missed! That girl from seven got away with my supplies! Oh well, well, well, here's the boy from 7. I should just...Dang it! He got away! I'm so bad.....
Official Start of Day 1
Bliss Creme
I'm right now with the Careers. We hear 9 cannons. 9 tributes dead. That is a good start.
Minerva Silver
We hear the anthem being played, and then the tributes are shown. There's the boy from 3, both from 5(Awww, that means that cute guy Marco died), Then the boy from 6, the boy from 8, the girl from 9, The girl from 10 (I killed her because she was so annoying), the boy from 11, and both from 12. Then again, the anthem plays, and blinds out. We, which means the Careers, decide to sleep on the job.
Day 2
Mica Stone
The careers go looking for tributes to pick on, while Minerva and I are on guard duty. We hear no cannons so far, and it's a pretty boring day.
Belle Lu
I'm wandering around the map, looking for some FOOD. Suddenly, I see a cabin. It was deserted. I go in the cabin and find tables and a kitchen. I peer inside the kitchen and find lots of fresh Capitol food. Since I'm not starving, I set it out of the cabin and then wait for someone to pass by to see if the food is actually poisonous.
Terra Draco
I am starving and tired.. when suddenly I see a sign. It says Oak. I look the other way. I see a deluxe breakfast. I quickly run over and eat it. But when I take a bite, I suddenly start coughing blood. The last thing I see is that D6 Girl with her mouth open. *BOOM*
Belle Lu
I knew it. There was some kind of trick to that. The Capitol food was poisonous. Thank goodness I tested it. I walk out of the cabin and see more cabins. I go to this sign that says Lower and I open a door. There was a restroom. I had to "go" and I didn't want to "go" in the lake. So then I went, and it perfectly flushed.
Blue Ghost
I want my mommy I'm so scared.....I wish I didn't become a tribute.
Mavin Ross
OMG...The careers are getting ahead of me........I have to run as fast as I can.....Oh no they are drawing out a sword, they point it out to me, but then some other Careers grab ahold of me. They tie me to a tree and leave me there to die.
Ginny Amber
Ah the careers. They don't see, so what better time to kill them. Quickly, I cut a tree, but before that, they cut another tree. *BOOM* They were standing in a straight line.....How perfect..........
Syr Wrath
Just then, I heard a "TIMBER!!!" and before I could react, I got flattened to the ground, along with my 5 other careers.
Narrator
We'll separate the Tributes from each other for one week to see how they cope!
Ginny Amber
I see that girl from 11. I charge toward her, but somehow, this wall is holding us apart. It gave me a teeny shock, and I figured it out.
Blue Ghost
They want to separate us.
CLAUDIUS TEMPLESMITH:
GREETINGS, TRIBUTES. WE'LL SEPARATE ALL OF YOU FOR ONE WEEK TO SEE HOW YOU COPE! THERE WILL BE NO MUTTS IN THE AREA, ONLY PLANT- EATING ANIMALS.
Belle Lu
Great. At least there won't be murders. But we can starve...... That night, I see all the Careers, and the boy from 7. Ok... so then we'll have to survive on our own.....Wait! There won't be any deaths for a week, I hope....
Dawn Bliss
Thank God, at least it will be safe to build a fire. At least I'll keep warm with no harm done.....
Day 3
Belle Lu
Wow..... I love this new rule..... Well this is only for one week so too bad....But at least I got the good part of the arena..... I could connect to nature now...
Harris Jon
I'm the only boy alive...... why.... Oh well.......
Ginny Amber
Quickly, I find a cabin and I open it. Wow it's so warm here........... I also have a lot of food I stole from those dead Careers. I might get used to it......
Blue Ghost
RATS! I was so close to killing her. Oh well at least I will have some privacy......
Dawn Bliss
Later in the day, I find a lake. I drink from it, and it tastes sweet. Suddenly, a fish comes and KISSES MY LIPS. EWWW!!!!!! I take the fish out of the water and stab it. Great, now I have some FOOD.
Sally Satin
At midnight, I look into the sky. No deaths today, so that's good.
Day 4
Ginny Amber
I wake up to the sound of arrows falling from the sky. They're more like spears. I quickly dodge them with ease. *BOOM* A tribute has died. Just then I hear an explosion. Then a cannon sounds. Another cannon. And another. And the final cannon rings out. I'm the victor. Great!
CONGRATULATIONS TO GINNY AMBER
AND TO SUPER.CUTE.KITTEN, CONGRATULATIONS!
Ad blocker interference detected!
Wikia is a free-to-use site that makes money from advertising. We have a modified experience for viewers using ad blockers

Wikia is not accessible if you've made further modifications. Remove the custom ad blocker rule(s) and the page will load as expected.