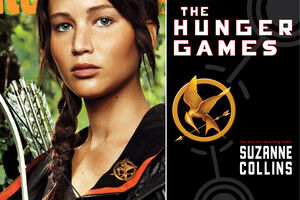 Of the three books in Suzanne Collins' Hunger Games series, two are guaranteed to become films.
The first Hunger Games film has been confirmed. It will star Oscar nominee Jennifer Lawrence as Katniss, and it will be released in March 2012. Lionsgate Productions announced this week that the second Hunger Games film, Catching Fire will hit theaters in November 2013. A long wait, but worth it!
It is obviously unusual to schedule a sequel before the first film has a chance to prove itself, but give the widespread popularity of Hunger Games and the all-star cast, we can expect a solid good time from both films.
The third book in the series, Mockingjay has yet to be turned into a film, but the possibility is strong.
Source: LAtimesblogs
Ad blocker interference detected!
Wikia is a free-to-use site that makes money from advertising. We have a modified experience for viewers using ad blockers

Wikia is not accessible if you've made further modifications. Remove the custom ad blocker rule(s) and the page will load as expected.