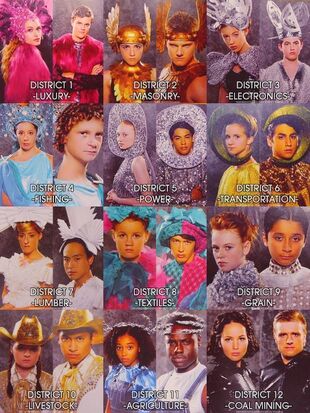 I got this idea very recently while looking at the chariot costumes for the movie. Basically, I was going to rank every chariot costume for each district in the movie from worst to best. I'm going to be judging on how good the costumes look, as well as how well it reflects the district itself. So, without any further ado, let's begin:
The List
12. District 7 - Lumber
District 7's outfits were... Meh. They didn't express their district well, neither was it well designed. It was just ok, nothing special, move along.
11. District 9 - Grain
It's a well designed costume, I do admit, but it literally has NOTHING to do with District 9! The only reason it's not #12 is because, like I said, it looks pretty cool.
10. District 8 - Textiles
It does it's job well representing District 8, but it's, no doubt, the ugliest outfits there. I wouldn't be caught dead wearing such horrible designs, so how did the tributes?
9. District 3 - Electronics
Another outfit design that represents it's district well, but looks pretty ugly. However, it looks less hideous than District 8's, so it just makes the #9 spot.
8. District 11 - Agriculture
Alright, these next few are designs I actually kinda like, and this one's no exception. It's subtle, yet expresses the districts specialty well. It's definitely not great, but it's decent.
7. District 6 - Transportation
I honestly really like the design of these costumes, the only problem is it doesn't represent the district as well as it should, but then again, how CAN you make costumes based on transportation? So, it doesn't represent it's district as well as the ones above, but it's still an awesome outfit.
6. District 5 - Power
It expresses it's district well, and looks ok. It's one of the few costumes I don't really have a problem with, although nothing about it really stands out. Still though, it get's number 6.
5. District 4 - Fishing
It doesn't express the 'Fishing' aspect as much as it does the 'Water' aspect, and although that's kinda annoying, the design for this is just awesome. Sure, it's not entirely faithful to the district, but it's still really cool.
4. District 1 - Luxury
Again, I have little flaws with this one (Even though I'm not a fan of pink, but not many males ARE), but it's better designed then District 5's, as well as better representing the district, so it get's number 4.
3. District 12 - Coal Mining
Although the fire part is really cool, I have a lot of faults with this design:
1) What does fire have to do with Coal?
2) If not for the fire, the costume would just be bland and boring.
3) If this costume represents district 12, I think a little more should be added to make it more... Like District 12.
But besides those, this is a really cool costume, and the fact it caught on fire is pretty amazing. It has the most faults of a costume, but it also has the most "Wins" to it as well.
2. District 2 - Masonry
A unique design in itself, and while it's not as representive as you'd expect, it doesn't fail at showing what district 2 is about. Also, the design is not just unique, it's awesome. Really really awesome.
So, if number one isn't District 2, 12, or even 1, who IS number one on this list?
1. District 10 - Livestock
Not only one of the most representive outfits to the district, it's also one of the most well designed. It's not just a cowboy outfit, it's a GOLD cowboy outfit. And the idea of a gold cowboy outfit may not sound good on paper, but the execution of the different colors, like gold and white just makes it look outstanding.
So, what's YOUR favorite chariot outfits? Leave your answers in the comments below!
Ad blocker interference detected!
Wikia is a free-to-use site that makes money from advertising. We have a modified experience for viewers using ad blockers

Wikia is not accessible if you've made further modifications. Remove the custom ad blocker rule(s) and the page will load as expected.