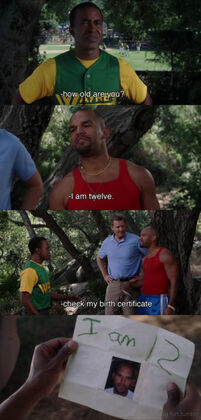 So this is goodbye for good guys (: I think its just time too move onto to new wiki's and explore new ideas. I know recently I have disrupted chat, alot but it was fucking hilarious and worth it tbh. Also this wiki is changing, changing alot and I'm not sure I like it. I mean users have left and we are not really getting many new ones. Also chat, like wtf has happened. I dont like to say it but this wiki is dying and I guess, I want to get out before it gets really bad. We just dont have the numbers or the structure to compete with some of the bigger wiki's that are constantly getting new users and growing. We were once a well oiled machine and one of the top wikis, but then the others adapted to change and advanced and we have not advanced with them, but I am sure this wiki well peak again. When that day comes, who knows but I am sad, I wont be there to see it.
But dont worry, I shall be on Better hunger games wiki, CHBRP and sometimes Elder Scrolls. Also Alice and Erlend, I shall be on lol<3. I may pop in every so often to work on that fanfic, I got going. But it truly was a pleasure guys and thanks for making every moment special, really and there was never a dull moment.<3
https://www.youtube.com/watch?v=KwyOfqbP8JU
People I love and love
Some people on here, have already gone, but if you see this guys. Goodbye<3
Dani
Lady
Kiki
Dustin
Emma
Chandni
Berry
Wes
Joan 
Zach
Oli
Blake
Calswag
Erlend
Alice
Charles
Mia(sorry about the porn >.<)
Anna
Colin
Marlene
If I left you out and you think I like you enough to be here, message me or leave a message on my talk.
BYE EVERYONE <3
Mr.Hufflepuff, May 16 2012-> August 10 2014
Ad blocker interference detected!
Wikia is a free-to-use site that makes money from advertising. We have a modified experience for viewers using ad blockers

Wikia is not accessible if you've made further modifications. Remove the custom ad blocker rule(s) and the page will load as expected.