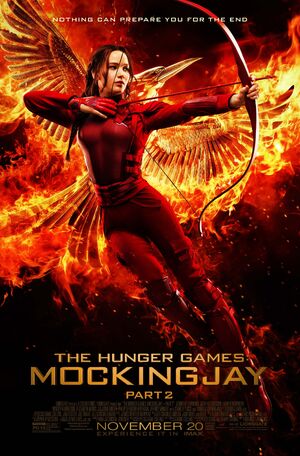 Tickets for the highly-anticipated film The Hunger Games: Mockingjay - Part 2 are NOW on sale! To celebrate ticket availability, the final poster for the film has just been released, featuring the Girl on Fire!
TODAY ONLY fans that purchase tickets via Fandango, MovieTickets, AMC, or Cinemark within the first 24 hours will receive a BONUS copy of The Hunger Games: Mockingjay - Part 1 as a digital download. Additionally Fandango users will receive an exclusive, never-before-seen clip from the upcoming film as well as a personalized, commemorative movie ticket to share online.
The Hunger Games: Mockingjay - Part 2 showtimes will begin 7pm on Thursday, November 19, and starting on Wednesday, November 18, fans will have the option to screen a double feature of Mockingjay Part 1 and Mockingjay Part 2. The Hunger Games Double Feature will be a premium experience including exclusive on-screen content and premium giveaways, allowing moviegoers to see The Hunger Games: Mockingjay - Part 2 a full 24 hours ahead of Thursday's advance shows.
Mockingjay Part 2 is going to be released on November 20, 2015. It stars Jennifer Lawrence, Josh Hutcherson, Liam Hemsworth, Woody Harrelson, Elizabeth Banks, Julianne Moore, Philip Seymour Hoffman, Jeffrey Wright, Willow Shields, Sam Claflin, Jena Malone, Natalie Dormer, Stanley Tucci, and Donald Sutherland. It is directed by Francis Lawrence. It is produced by Nina Jacobson and Jon Kilik.
---
---
Ad blocker interference detected!
Wikia is a free-to-use site that makes money from advertising. We have a modified experience for viewers using ad blockers

Wikia is not accessible if you've made further modifications. Remove the custom ad blocker rule(s) and the page will load as expected.