Hunger Games Jokes!
As we all know there are many jokes to do with The Hunger Games so here are some of them:
Katniss: Oh, and i suppose the apples ate the cheese?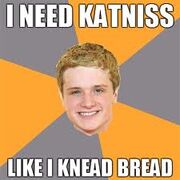 Peeta: OMG ! APPLES HAVE FEELINGS TOO, KATNISS. WHAT HAVE THE APPLES EVER DONE TO YOU? MAYBE THEY WERE HUNGRY, KATNISS. SO STOP BEING SO JUDGEMENTAL OF THE POOR APPLES. ALL THEY WANTED WAS SOME CHEESE, AND YOU TOOK THAT AWAY FROM THEM TOO. All they wanted was a bit of cheese, Katniss. Leave the apples alone.
---
Effie: And the tribute for district 12 is ......your mom. ALRIGHT WHO WROTE THIS?
---
Any more? please add :)Purplepunk89 21:46, March 24, 2012 (UTC)bethanyPurplepunk89 21:46, March 24, 2012 (UTC)
Ad blocker interference detected!
Wikia is a free-to-use site that makes money from advertising. We have a modified experience for viewers using ad blockers

Wikia is not accessible if you've made further modifications. Remove the custom ad blocker rule(s) and the page will load as expected.