Ad blocker interference detected!
Wikia is a free-to-use site that makes money from advertising. We have a modified experience for viewers using ad blockers

Wikia is not accessible if you've made further modifications. Remove the custom ad blocker rule(s) and the page will load as expected.
Welcome!!
So since everyone is doing one I think i am going to do a Hunger games. That is if i get enough people to Audition People for it. So audition please and will make it.
Rules to audition people...
1. Only 2 people per person.
2.You MUST have an account
3.Never mind, You can reserve as long as you want until all the slots are filled so like if you have it reserved but everybody else is done and waiting i will give your spot away.
4.I dont know what the profile thing is so unless you explain it to me dont do it.
5.I will use Random.org If I end up doing this.
6. You will have $500 to spend on your tribute that you create... I will explain more If enough people audition.
Name:
Age:
Gender:
District:
Weapons:
Strengths:
Weakness:
Appearance:
Token (Optional):
The Arena
So here is a desciption of what the Arena will look like. If i get enough people, it will be 6 Islands surrounded by water (Duh it's an island.) There will be 1 big one in the middle that will have the cornucopia on it and 5 other islands that range in size.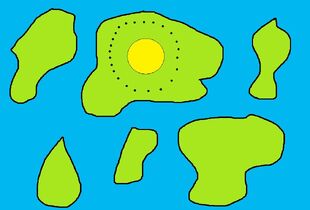 Tributes
| District | Name | Age | Weapon(s) | Strengths | Weaknesses | Sponser |
| --- | --- | --- | --- | --- | --- | --- |
| 1 | | | | | | |
| 1 | | | | | | |
| 2 | | | | | | |
| 2 | | | | | | |
| 3 | | | | | | |
| 3 | | | | | | |
| 4 | | | | | | |
| 4 | | | | | | |
| 5 | | | | | | |
| 5 | | | | | | |
| 6 | | | | | | |
| 6 | | | | | | |
| 7 | | | | | | |
| 7 | | | | | | RESERVED(3) |
| 8 | | | | | | |
| 8 | | | | | | |
| 9 | | | | | | |
| 9 | | | | | | |
| 10 | | | | | | |
| 10 | | | | | | |
| 11 | | | | | | |
| 11 | | | | | | RESERVED(3) |
| 12 | | | | | | |
| 12 | | | | | | |