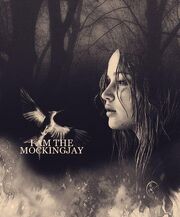 Hello, my name is Samantha Blue! I'm recently starting to write about this game the 25th HUnger Games a.k.a The First Quarter Quell! If you want to be a part in my games please be sure to enter the following information about your tribute(s):
Name:
Gender:
District:
Information about themselves:
Weapon of choice:
Thank you and may the odds be in your favor!
District 1
Girl:
Boy:
District 2
Girl: Boy:
District 3
Girl:
Boy:
District 4
Girl:
Boy:
District 5
Girl:
Boy:
District 6
Girl:
Boy:
District 7
Girl:
Boy:
District 8
Girl:
Boy:
District 9
Girl:
Boy:
District 10
Girl:
Boy:
District 11
Girl:
Boy:
District: 12
Girl:
Liberty Free (Libby)
Info: Liberty is a phenomonal fighter. She is stubborn, but doesn't like to let her good heart show. She wants everyone to believe she in tough, but on the inside she breaks easily. She has 7 little sisters and brothers to care for, because of her father working in the mines and her mother's mental state. She knows whats it's like to be hungry and to be taken from those she loves. Her heart reaches out to people who are lke her, but her stony exterior rarely let's it shine through. Because of her siblings, she has a particular (well masked) fondness for children. She is 15, and skinny and agile. She is an incredibally fast runner, and pretty intellegent. She has long wavy brown hair and the bluest eyes you will ever see. She is around 5'5 and is skinny and tan.
Weapon of choice: Spear, Her mind, knife
Ad blocker interference detected!
Wikia is a free-to-use site that makes money from advertising. We have a modified experience for viewers using ad blockers

Wikia is not accessible if you've made further modifications. Remove the custom ad blocker rule(s) and the page will load as expected.