Personal Information
74th Hunger Games Preperation
74th Hunger Games
Chariot rides
Training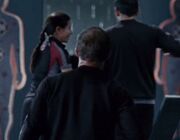 Later when Marvel is using a spear to fight with his trainer, she can be seen on his right side learning how to throw knives with her trainer. When Cato slices a dummy's heart, she can be seen finishing her turn on the gauntlets and behind her is the 
District 7 female
. She can also be seen using a bow and arrow, behind 
Peeta Mallark
 when the Careers teased him. 
Interviews
She is seen waiting in line with the other tributes and if you look close, her hair is down and if you look down, you can see she's wearing a very light pink dress.
Cornucopia bloodbath
Book
Being a Career, she probably killed or injured several tributes. If she wasn't a Career, she is probably the 2nd to die, placing 23rd, as hinted in the film. In the book, the D4 female is weaker as she is now weaker than Cato and probably a bit stronger than Glimmer.
Film
She was killed in the Cornucopia bloodbath. Her pedestal is positioned next to 
Clove
 and the 
District 8 male
. She runs toward the left, as 
Cato
 injures the 
District 10 male
. Then, Cato shoves her into a crate. She is attacked by the 
District 6 female
 with a serrated sword, but she brutally beats her, pushes her to the ground, and grabs her sword. She battles the 
District 3 female
, and then slashes her knees with the serrated sword. She tries to battle Cato, but the two are evenly matched, with one dodging the other's attack. She tries to behead Cato, but he ducks and hits her arm and slices her stomach with his baton and throws her into a crate. After failing to kill Cato, she runs off into the forest taking a red backpack on the way. Cato convinces the other Careers to help him find her, they find her and Cato kills her in the forest.
Ad blocker interference detected!
Wikia is a free-to-use site that makes money from advertising. We have a modified experience for viewers using ad blockers

Wikia is not accessible if you've made further modifications. Remove the custom ad blocker rule(s) and the page will load as expected.