Ok, so remember these games, the paper fortune teller?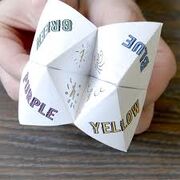 Well I've made one to find out who you would be Panem!
It's simple, first, you pick your favorite ship, then your favorite district(or capitol), and finally, choose again, and tada! It tells you who you could be!
1. Choose your favorite ship:
Finnick and Annie
Gale and Katniss
Katniss and Peeta
Cato and Clove
2. Pick a district
If you picked Cato and clove or gale katniss, choose from capitol, 1, 11 or 7
If you picked Katniss and peeta or Finnick and Annie, choose from 2, 4, 12 or 13
3. Pick again
If you picked 1, 11, 13, capitol or 7, choose from either 2, 4, 12 or 13
If you picked 2, 4 or 12, choose from capitol, 1, 11 or 7
Results:
Capitol: You are a game maker.
District 1: You are a career.
District 2: You are a victor.
District 4: You are a... OMG, LOOK. FINNICK ODAIR IN HIS UNDERWEAR!!
District 7: You are dead.
District 11:You are a tribute.
District 12: You are the mockingjay.
District 13 You are a soldier.
How lucky are you?! ;D
Ad blocker interference detected!
Wikia is a free-to-use site that makes money from advertising. We have a modified experience for viewers using ad blockers

Wikia is not accessible if you've made further modifications. Remove the custom ad blocker rule(s) and the page will load as expected.