Hey Guys I am back again with my 5th games! These games are really different from my previous games. I will be choosing tributes from users so don't submit anyone. Also the style of the game is different. This is the Japanese Version of the Hunger Games. The style is more like a reality show. With teams and eliminations (deaths). Japan rules over the other survivng country and now Panem as well. The Japanese President has left Snow in charge of Panem but he ultimatley rules over Snow. The Presodent has ordered Snow to eliminate the hunger games in Panem and instead he will have to submit two tributes ever year.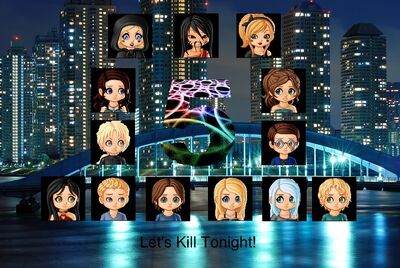 Lets Kill Tonight!
This game's theme song is Let's Kill Tonight by Panic! At The Disco. That is one of my favorite songs ever and my favorite band ever. The song is upbeat yet dark which is what these games are all about. You sohuld definatley listen to it and you may just get hooked on Panic!
Tributes
| | | | | |
| --- | --- | --- | --- | --- |
| Country | Male Tribute | Creator | Female Tribute | Creator |
| Japan | Maxwell Liang | EffieLuna | Suko Yoshida | Kenzen11 |
| Russia | Mars Len | Jabberjay78 | Ursula Shrapnel | Anon.... |
| China | Qian Shao | Fantasyfilm99 | Yuki Ling | Hungergamesrocks |
| France | Everett Frazier | DistrictTributexD | Tinsley Cape | MockingFire |
| Germany | Draco Petra | Kenzen11 | Amazon Glacious | Clove1001 |
| Egypt | Hazel Grain | Mnkygrlsj | Calypso Gale | Jabberjay78 |
| South Africa | Grant Nelly | Tacosalad1127 | Harpy Evermist | Rockman117 |
| Brazil | Ryan Fielder | Panther12 | Azalea Lysander | DistrictTributexD |
| Canada | Hunter Wintermoon | Clove1001 | Hail Monei | Fantasyfilm99 |
| Sweden | Trout Gar | Necterine411 | Trinity Scott | Purplexmuffin |
| Italy | Ceasar Neptune | Something482 | Aria Fins | Moviepopcorn123 |
| Greece | Arby King | Tacosalad1127 | Lilac Coalburner | Rockman117 |
| Korea | Nicholas Chung | TotalDramaRox97 | Evi Tech | Necterine411 |
| Australia | Ian Volt | Nate777 | Cherri Blonde | Foxface101 |
| Spain | Ferdinand Cruz | TeaBot | Annamaria Lopez | Hungergamesrocks |
| Britain | Kyler Quist | Firecatcher3 | Cindy Regar | Nate777 |
| Saudi Arabia | Cream Donahew | Anon.... | Iris Tune | Mnkygrlsj |
| India | Galigan Mazerapi | Tiki Tooki | Nike O'Hare | Tiki Tooki |
| New Zealand | Ivory Northman | Purplexmuffin | Aquila Melina | Brony12 |
| Ireland | Ethan Jamieson | Bklmc5 | Peppa Ranoch | Firecatcher3 |
| Bulgaria | Akim Yakovliv | Foxface101 | Camilla Furhman | Bklmc5 |
| Holland | Easton Lee | MockingFire | Lily Shore | Something482 |
| Mongolia | Milo Shay | TeaBot | Eva May | Panther12 |
| Mexico | Nick Gradi | Moviepopcorn123 | Vanessa Jimenez | TotalDramaRox97 |
| Panem | Surf Blue | EffieLuna | Dallas Tinsle | Brony12 |
Rules
There are 3 rounds in this deadly game. The first round is the knock out round, where the contestants will be put in grueling challenges until only 24 are alive. Then the 24 will split into two teams and they will travel some of the countries, participating in challenges along the way. The 3rd round is the merge which starts when there are only 12 tributes left. They return to Japan and continue to fight their way into the final two, where one tribute will be crowned the Victor!
Part One: A New World
Iris Bloodworthy and Anna Krylov
Anna played with the dagger as she stared at the night sky. She was seated on a window seat looking out at the courtyard below and the skyline of the Capitol. It seemed like an eternity since Gregory's death, since she was crowned Victor. In reality it had only been a year. Three months ago President Snow had given Anna and another victor, Iris Bloodworthy the task of assassinating the Japanese President, Wong Tadashi. In less than an hour she would be on a hovercraft to Tokyo, Japan. She is filled with joy at the thought of killing the President, but also the high chance that she had of killing the other Victors. A knock on the door brings her back to reality. The door opens to the figure of Iris. Slim, beautiful and blonde the girl strides into the room. Her honey hair is in the usual ponytail. Black Eye lay under her emerald eyes. A black ribbon in her hair.
"Time to go.", she says in her monotone voice.
Anna pulls on her black coat and the two walk out of the door. They walk down the grand staircase of Snow's Mansion and out the huge doors into the ornate courtyard. President Snow is standing in front of a hovercraft. After Panem was invaded most hovercrafts were destroyed, but not this one. Anna and Iris salute Snow. He smiles but all he says is "Good Luck." The two girls board the hovercraft and it takes off. The weight of the mission finally sinks in to both Iris and Anna. Anna realizes that she is not the same girl she used to be. She has nothing to live for, she is a killing machine. The thought makes Anna smile. After three hours Tokyo comes into sight. The sprawling metropolis is over 100 times the size of the Capitol. The hovercraft hovers over the city until it finds where to land. Another craft twice the size flys by and starts to shoot projectiles. Three hit the hovercraft. The craft lowers. Iris yells "Come on!" With that she grabs Anna by the hand and the two jump into the lake in the middle of the city. The streets are empty due to the late time of night. Their hovercraft crashes into a street about 10 blocks away. Anna and Iris run out of the park into an alley way to discuss the next part of their plan.
Star Sun
Star washed her face in the granite basin. She looks in the mirror and smiles at the face she sees. Today was her seventeenth birthday. It had been only one year since she had been kidnapped by the Capitol. One year since she had been thrown back into the arena to face death. One year since she had escaped with Nolt, Rose, Dallas and Surf and fled to Japan. She walks out of the bathroom into her quarters. She sees the beautiful aqua dress laying on her king sized bed. She puts the dress on. Star looks herself over and when she sees that she is presentable, walks out of her quarteds in her 8 inch stilletos. She walks into the hallway where Emma walks out of her quarters across the hall. She is wearing a seafoam dress and looks quite stunning.
"You look amazing!", Emma says.
"Not as good as you!"
"Don't be so modest."
The two walk down the hall and down the staircase. The two girls find River at the bottom of the steps, looking handsome in a black suit. He grabs Emma's hand and together the three walk into the dining area. Seated at the table is Nolt, Ebrulf, Cam and Surf wearing identical suits like River's and Rose, Night and Dallas wearing the same dress as Emma. They all shout "HAPPY BIRTHDAY!"
Star smiles and takes a seat between Rose and Cam. Not only is this Star's birthday, but it is also the day they meet President Tadashi. The table is silent as a man with long hair, chesnut eyes and a long mustache walks into view. Dress in elaborate oriental robes he looked rather handsome but had a demeanor that seemed filled with hate. Star estimated he looked about thirty.
He says, "Welcome victors." Rose blushes at this.
"You are here in my palace in Tokyo as you plan to aid me in my fight against Panem. You will be very useful to me. Very useful indeed."
Ad blocker interference detected!
Wikia is a free-to-use site that makes money from advertising. We have a modified experience for viewers using ad blockers

Wikia is not accessible if you've made further modifications. Remove the custom ad blocker rule(s) and the page will load as expected.