What just happened? Anyways, 6 tributes must be sent from D5!
Hey y'all, and welcome to my 1st Hunger Games!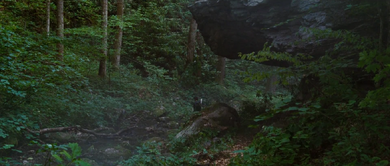 Type: Quarter Quell
QQ Changes: People vote for their reaped victims and for their mutts.
Reservations: 3 days max.
Tributes: 6 max.
Alliances: PM me with alliances.
Arena: Dense forest. Like the 74th HG, there is dense forest, though one quarter of the arena is water. I will be one once daily to check this page and add some stuff, but please read these notes!
Sponsoring:
Remember, the more tributes you have, the more likely one will be killed off early, but the more likely one will win! *NOTE: You get 1500 dollars for each tribute you enter, but no money can be traded (I.E: I have 500 of Shadow's money given to Radiance etc.). However, you can gain up to C500 more to spend if you kill a large amount of tributes, or get a training score above 10. Other players not involved with this Hunger Games can give certain tributes up to C50 each more to one tribute once, maxing out at C500 for said tribute. Confirm these transactions via PM, and the lucky tributes to get C500 more for their victory will have their names announced after the bloodbath. No parachutes will be allowed until Day 3, and each day of the HG will be written about every 3-5 real life days, so be patient! Bold items make you a much higher target of muttations and 'natural' distasters.
Say if the games begin on the 1st January,
Day 2 will be written on the 3rd-5th,
Day three on the 6th-8th and so on.
With the C1500 you already have, you can buy gifts now to be sent to your tributes later, though with the weapon packs, the weapon is decided by me. (I.e. if you buy a medium weapon and there are 4-6 choices and your tribute is strong with deer horn knives, there is a 1/4-1/6 chance that deer horn knives is what they will get).
You each have 1500 Capitol dollars to spend, and you can buy these gifts:
Rucksack full of random goodies: C550 (Small), C1100 (Large)
Small weapon (Short sword, knife, dagger): C850
Pack of crackers: C250
333 ML of water: C150
Pack of 6 arrows: C500
Medium weapon (Pilum, katana, deer horn knives, bow and arrow with 6 arrows): C1500
Elite weapon (Trident, shield, bow and arrow with 12 arrows, blowgun, scythe, vest with five various weapons like Cloves): C2000
Tribute support pack (Short sword, small rucksack, two packs of crackers, 333 ML of water): C1750
"Odair" Elite pack (Trident, 2 packs of crackers): C2350
District 11 pack (4 packs of crackers, one pot of soup, 666 ML of water): C2000
Spartan pack (Short spear (Handle 75cm long, weapon 10cm long), body armour): C2500
My Tribute!
(Use the same template as I will use here, please!)
Name: Radiance Illumination
District: District 1
Age: 18
Gender: Female
Preferred Weaponry: Bow and arrow, deer horn knives
Personality: Cunning, ruthless.
Appearance:
Backstory: Radiance is a Career Tribute, like most from District's 1 and 2, and some from District 4. She trained her entire life, become adept with all classes of weaponry but showing superior skill with the bow and arrow and deer horn knives, the latter of which only a very new tool in the Hunger Games. She has one brother: Flourescent, who came second four years ago.
Strengths: Climbing, swimming, great stamina, can eat almost anything.
Weaknesses (If any): Fear of landing in a desert, cannot withstand extreme cold for long.
Other: None.
Strategy: Kill as many as possible at the bloodbath, and join the other careers. Send them into a pack of non-careers and kill them off.
Ceasar Flickerman looked at the autocue, surprised by the odds that came up. His face creased as he leaned in and looked ever so deeply into the camera and autocue. I thought to myself that the audience must think he had been hit by a plague or something, but I was shocked when he composed himself and red out the odds for the seven or so tributes confirmed to be reaped.
"Gray Daniel, with the odds of 1/7 to win. Alexis Holiday, with the odds of 1/10 to win. Phantom Wisp, with the odds of 1/9 to win. Tiffany Gomez, with the odds of 1/40 to win. Rickey Dean, with the odds of 1/9 to win. Megan Bass, with the odds of 1/13 to win. Radiance Illumination...."
My heart skipped a beat as he began to read my odds. He looked impressed, though the small screen on the train didn't show much in the terms of facial expression.
"Radiance Illumination, well, has the odds of 1/3 to win!"
Gray stared at me, about as amazed as I was. The highest odds for a female ever. Only Finnick Odair has matched my score and only one other tribute, who I have forgotten their name in the mist of dead victors, has beat it.
NOTES:
11/12/2012: The Tribute gallery is now open! Submit your lunaii (I will not make them for you) and see how the other tributes look!
Tributes
District 1:
Female: (VRGuardian) Radiance Illumination: Bow and arrow, 18 years old, ruthless, great stamina, swimming.
Male: (ShadowStarters) Gray Daniel: 17 years old, total jerk, scythe, axe, has no mercy, strong swimmer.
District 2:
Female: (ShadowStarters) Alexis "Lexi" Holiday: Bow and arrow, knives, red hair, kind, likes Phantom.
Male: (ShadowStarters) Phantom Wisp: 15 years old, scythe, muttations (?), outcast, volunteered, career (?)
District 3: 
Female: (Mrweare121) Tiffany Gomez; Swords, landmines, red hair, 13 years old, know it all, rude, fears snakes.
Male: (Mrweare121) Rickey Dean; Explosives, plans, knowledge with mutts, 18 years old, white hair.
District 4:
Female: (Mrweare121) Megan Bass; Blue skin, 17 years old, trident, swimming, kills quickly, mean to others.
Male: (VRGuardian) Shadow Reid, 17 years old, deer horn knives, tactical, brown hair, career (This HG ONLY!)
District 5:
Female:
Female:
Female:
Male:
Male:
Male:
District 6:
Female:
Male:
District 7:
Female: (AxedFox) Treeden Woods: 17 years old, sister to Timber, bow/arrow, good hunter, blonde hair, caring.
Male: (AxedFox) Timber Woods: 18 years old, brother to Treeden, axe, dangerous, good climber.
District 8:
Female:
Male:
District 9:
Female:
Male:
District 10:
Female:
Male:
District 11:
Female:
Male:
District 12:
Female: (SourCandy) Auralee Mason: 18 years old, blowgun, kind, loving, poor climbing, good running.
Male:
Training Score Predictions
D1: Radiance: 8-11
D1: Gray: 9-10
D2: Lexi: 7-8
D2: Phantom: 8-9
D3: Tiffany: 3-5
D3: Rickey: 5-8
D4: Megan: 2-5 (For the sole reason that hardly any major water mass is present)
D4: Shadow: 8-10
D7: Treeden: 7-9
D7: Timber: 9-11
D12: Auralee: 7-9 (Hotly tipped to cause the upset of the Hunger Games history!)
Top Tributes (Based on General Skill)
1st Place: Timber
2nd Place: Radiance
3rd Place: Gray
4th Place: Shadow
5th Place: Phantom
6th Place: Auralee
Tribute Gallery :) (NOTE: PLEASE SUBMIT LUNAII, I WILL NOT MAKE THEM FOR YOU!)
Happy Hunger Games, and may the odds be ever in your favour!
Ad blocker interference detected!
Wikia is a free-to-use site that makes money from advertising. We have a modified experience for viewers using ad blockers

Wikia is not accessible if you've made further modifications. Remove the custom ad blocker rule(s) and the page will load as expected.