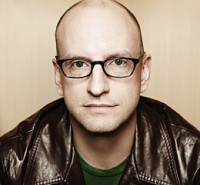 As the film adaptions of The Hunger Games continues, it comes as no surprise that more news keeps coming out. According to Movie Web, Steven Soderbergh will be joining on at least temporarily for part of the second unit directing. Soderbergh is perhaps best known for his work on Ocean's Eleven. Director Glen Ross tweeted the following, ""Soderbergh in the house this weekend!!!"
It is good to see that Ross is enlisted the help of some of his friends in the production of this film. The Hunger Games is expected to be released on March 23, 2012 and stars Jennifer Lawrence, Josh Hutcherson, Liam Hemsworth, Elizabeth Banks, John C. Reilly, Wes Bentley, Leven Rambin, and Willow Shields.
Do you think that you will be able to notice Soderbergh's influence on the film when it is released?
Source
Ad blocker interference detected!
Wikia is a free-to-use site that makes money from advertising. We have a modified experience for viewers using ad blockers

Wikia is not accessible if you've made further modifications. Remove the custom ad blocker rule(s) and the page will load as expected.