Hey people!!! I have been really bored lately so I am going to make a Lunaii competition! :) Ok just in case you dont know where to make a Lunaii ill give you the link! :)
http://lunaii-dollmaker.com/dollmaker/
There you go!
I want to have 12 users so sign up!
Give me your real name please! :)
Challenge 1
Ok im gonna start off pretty easy!
I want you to make a lunaii of Rue! I want it by Tomorrow 8pm Pacific time
Good Luck, nd may the odds be ever in your favor! (couldnt resist) :)
Ben's Rue

Brianna's Rue

Liz's Rue
Zara's Rue
Emily's Rue
Ole's Rue
Cindy's Rue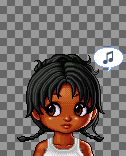 Andrew's Rue
Meredith's Rue


The Winnner is..........LIZ! I loved your Rue! It was very cute, and creative...Ben was a close second though! So in the next round Liz has immunity!
This round since two people didnt do it they where eliminated! I am letting Justafox off the hook because he joined late!
Challenge 2
For the next challenge, you need to make a Lunaii of..............MARVEL! Yep the guy that killed your Lunaiis above! :) I want it by this Wednesday 5:00pm pacific time
Ok so the winner for this round is..............KEWLBEN! I really liked his lunaii, it was nicely edited and all that jazz! :P He has immunity for the next round....
Eliminated people are........justafox(because he left) and nerdDFTBA because, I thought that your Marvel looked a lot like Cato, but not like Marvel! Also you didnt get the weapon right, but yea it was still good but it didnt look as much like Marvel as the others did! Sorry!
Challenge 3
For this round you guys have to make..........JOHANNA! Yep! The district 7 tribute from The 75th Hunger Games! I want this one by Sunday 8:00pm pacific time!
Note for Ashie: You have until Monday 5:00pm pacific time to finish all three or you are eliminated!
The Winner for this round is.............GALE'S GIRL! I really liked how you went all out and added blood, and dirt and even a quote! Good Job!
Unfortunatly we have two people eliminated today! KEWLBEN, and Mrs.Finnickodair.They did not turn thier lunaiis in on time so sorry! :(
Challenge 4
For this round you have to make................oh this one is gonna be hard......BOGGS! I want it by Tuesday 8:00pm pacific time!
GOOD LUCK!
The winner for this round is........Pendiluma! Truthfully, i have always pictured Boggs black, and his was the closest!
Ashton is eliminated for this round! Gales Girl has immunity!
Challenge 5
for this round you have to make................Mrs. Everdeen! Lol Im giving you guys hard ones now. Oh well! I want it by Monday 8:00pm Pacific time
The winner is.........GALES GIRL! I loved your Mrs. Everdeen!
Eliminated is............Pendilumna.......Sorry but I dont think that the hair color was right!
Challenge 6
This round you have to make a lunaii of..........Beetee! :) Have fun! I want it by Wednesday 8:00pm Pacific time
Ok since you all submited im gonna go ahead and post the results!
The winner is............Brianna!! I liked how you explained your lunaii, and to me it looked almost perfect.
The person out is...............Gales Girl. Sorry, but I didnt like how you added the light bulb. Sorry!
Challange 7 (last challange!!)
Ok for this round, you have to make............ Annie! Yep Annie! So good luck!! I want it by Friday 8:00pm Pacific time.
DUN! DUN! DUUUUN!
Ok so the winner is........................................
RAINFACESTAR!!!
This one was like SUPER SUPER SUPER hard, so I decided to picture Annie. She has straight, messy hair, and she always looks like something else is on her mind. So Rainfacstar, you go the hair right, and the wedding dress was a nice touch, BUT Thena got the facial expression down! The reason I didnt choose Thena is because she put make up on ttthe lunaii, and the hair was wavy :/ Sorry!
CONGRATULATIONS RANFACESTAR!
Ad blocker interference detected!
Wikia is a free-to-use site that makes money from advertising. We have a modified experience for viewers using ad blockers

Wikia is not accessible if you've made further modifications. Remove the custom ad blocker rule(s) and the page will load as expected.