Welcome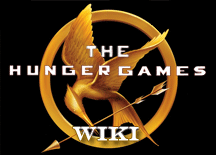 Greetings, Aaronmalik!
Welcome to The Hunger Games Wiki! Thanks for your edit to the User blog:J McAtee/J McAtee/ the 55th Hunger Games page. I hope you enjoy it here and decide to stay.
Before editing, be sure to read the wiki's policies. Please sign your name on talk pages using four tildes (~~~~) to automatically produce your name and the current date. Be sure to verify your e-mail address in your preferences. If you have any questions, check out the Community portal or ask me on my talk page. Again, welcome! -- Necterine411 (Talk) 02:19, July 31, 2012
DEAR AARONMALIK
FROM GGAMEN
hi!!!! i saw your post saying thank you for being eager and i want to thank youfor starting these games
its my first one ive ever been in and i love it so you have inspired me to try other games and its a blast so thank you
and im sorry if i post to much on your 73rd hunger games blog and rush you too much but its just so exciting
TO AARONMALIK
FROM JESSICA JACKIE
AND THEIR MENTOR
ME!!!!!!!!!!!!!!!!!!!!!!!!!!!!!!!!!
10hi its ggamen
hi i have a game called 103RD HUNGER GAMES PLZ HELP sorry i do not accept on my profiles so plz make a trib on there because i bet your tribs are great!
its me
hi aaronmalik its me ggamen....i had to make a new character lol so ya here i am all brand new and stuff :)
dear ggamen whats your new name??????
hey
please check: The NEW Games
thank u :) :)
Manner me456 (talk) 02:32, December 12, 2012 (UTC)
Join My games
hello, can you sign up in my games? http://thehungergames.wikia.com/wiki/User_blog:Cashmere_Career/The_1st_Annual_Hunger_Games
heyy aaronmalik
for some reason i cant post the interivews so here they are
Jaspers interview (mum was quiet and the rest family talk
Interviewer : how do you feel about jasper in these games?
Dad: proud he will bring pride to our district and fame to our family
Interview : how would you compare jaspers with the final 8 ?
Dad:he's at number one and will win ,
Sister : jasper I know you are gonna win and if not ill win for you !
and 
Star interview (with family)
Interview : what would it mean to have star win ?
Family:everything and she will win , she is a strong girl and has been in training since she could walk Interview : how do you feel about the career alliance ?
Family: its ok but don't get to close to them (sister adds : don't trust them nasty toads
Interview : a final message for star ?
Mum:everybody in District 2 is proud and you will be the next big thing !