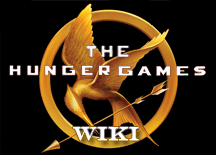 Greetings, AdaPayne!
Welcome to The Hunger Games Wiki! Thanks for your edit to the User blog:TheOneandOnlyDistrict3/29th Annual Hunger Games page. I hope you enjoy it here and decide to stay.
Before editing, be sure to read the wiki's policies. Please sign your name on talk pages using four tildes (~~~~) to automatically produce your name and the current date. Be sure to verify your e-mail address in your preferences. If you have any questions, check out the Community portal or ask me on my talk page. Again, welcome! -- TagAlongPam (Talk) 17:39, June 9, 2012
Gamemaker
Edit
Hey! Anyways, you signed someone up to be a Gamemaker for my sim, so could you help me make my arena here, if it's not much of a bother? TheOneandOnlyDistrict3 (talk) 21:08, July 13, 2012 (UTC)
P.S. I know you posted your Gamemaker's ideas on the main blog, but just copy and paste them. :)
Hey!!! If you would like, you can add another Husky! I need still ten other huskies.... Thankyou!!!
http://thehungergames.wikia.com/wiki/User_blog:Robin040197/The_Husky_Games
Greetz: robin040197
Robin040197 (talk) 15:01, July 30, 2012 (UTC)
Hi when is your next games (your tributes were great on j mcfee games , so im just wondering )
My Games have started already (Even we need 7 more people) Why don't 'cha come ov'r an' check it out?
"You never stop a man in the middle of a kamehameha!" - Neil Watts from To The Moon (talk) 02:40, August 20, 2012 (UTC)
Hey AdaPayne I was wondering if you could fill up some of my tribute spots in these games I would like to start soon
http://thehungergames.wikia.com/wiki/User_blog:District2Career/62_Hunger_Games
Hey AdaPayne would you like to join my 56th Hunger Games I need tributes please here is the link
http://thehungergames.wikia.com/wiki/User_blog:District2Career/56th_Hunger_Games