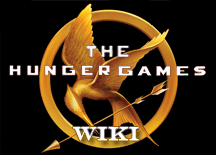 Greetings, MathiasTobias!
Welcome to The Hunger Games Wiki! Thanks for your edit to the Clove page. I hope you enjoy it here and decide to stay.
Before editing, be sure to read the wiki's policies. Please sign your name on talk pages using four tildes (~~~~) to automatically produce your name and the current date. Be sure to verify your e-mail address in your preferences. If you have any questions, check out the Community portal or ask me on my talk page. Again, welcome! -- Iluvgale (Talk) 04:14, March 31, 2013
please do not reove others comments from talk page. if you disagree with the comment take it up with the user. if it is offianceive let an admin knw and they will take any action needed. 
Wingman1 01:51, June 4, 2013 (UTC)
The Capitol Knows

Welcome to the The Hunger Games Wiki. Although everyone is welcome to make constructive contributions here, at least one of your recent edits did not appear to be constructive and has been reverted. Please use the sandbox for any test edits you would like to make, and read the policy page to learn more about contributing constructively to this wiki.

Please note that further infractions may result in a block for a short duration, at an administrator's discretion.

Thank you.

~~~~
Realy you are going to delite MY comments?
Wingman1 02:48, June 4, 2013 (UTC)
| | | |
| --- | --- | --- |
| | Second warning for the same reason. Wingman1 | |
If a page has a Mentor category then it doesn't need a Victor category because they are the same thing. RainbowShifter 21:02, September 6, 2013 (UTC)
The category system is like a tree. Only the most specific category along each "branch" is needed on a page. So for example, any character page categorised under does not also need to be added under, since that mentor category is already categorized under the "victor" category. That means everything in the mentor category is automatically categorised under "victors" further up the category tree. Make sense? Let me know if you have any questions about the category system

Rainbow

Shifter

21:08, September 6, 2013 (UTC)