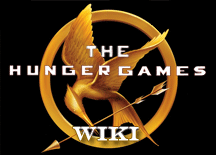 Greetings, District22!
Welcome to The Hunger Games Wiki! Thanks for your edit to the User blog:Theworldscolliding/The 89th Annual Hunger Games page. I hope you enjoy it here and decide to stay.
Before editing, be sure to read the wiki's policies. Please sign your name on talk pages using four tildes (~~~~) to automatically produce your name and the current date. Be sure to verify your e-mail address in your preferences. If you have any questions, check out the Community portal or ask me on my talk page. Again, welcome! -- BrokenSphere (Talk) 17:39, May 16, 2012
http://thehungergames.wikia.com/wiki/User_blog:FinnickForever/44th_Hunger_Games can u pls join? tnx
Finnick a.k.a FinnickForever 15:49, May 29, 2012 (UTC)FinnickForever
The Capitol Knows

Welcome to the The Hunger Games Wiki. Although everyone is welcome to make constructive contributions here, at least one of your recent edits did not appear to be constructive and has been reverted. Please use the sandbox for any test edits you would like to make, and read the policy page to learn more about contributing constructively to this wiki.

Please note that further infractions may result in a block for a short duration, at an administrator's discretion.

Thank you.

~~~~

     Jake  ♥ What is air when I have you?             16:32, July 20, 2014 (UTC)

Hi! You reserved three spots in my hunger games about a week ago. Unfortunatly, though I do take reservations, I have other people who want the spots you reserved. I'm am giving everyone that reserved a spot three more days to comment their info. Otherwise the spot will be taken over by someone else. Sorry! :(
Here is the link:
http://thehungergames.wikia.com/wiki/User_blog:Foxface26/THE_Hunger_Games
Thank you!
Foxface26 (talk) 22:38, August 4, 2013 (UTC)Foxface26
The 199th Hunger Games with a Twist
Edit
Hey, just wanted to make sure you remembered that you reserved a tribute today. If possible, could you have it up tomorrow? Usually, I don't allow reservations, but as long as you have them up tomorrow, it won't be a problem. Just please have it up within 24 hours or your reservation is up. Thanks!
Link: http://thehungergames.wikia.com/wiki/User_blog:WiressFan21/199th_Hunger_Games_with_a_Twist
WiressFan21 (talk) 02:27, August 5, 2013 (UTC)
Here

Hey,your right! No wonder everyone's stomach's are growling!

21:56, August 12, 2013 (UTC)
District22 (talk) 21:57, August 12, 2013 (UTC)
Thank you
Edit
I will also miss you and I did get on chat, I hope we pm or something... I just don't want to pm people without knowing they want me... I've known you for a while know and I do love you, at first I considered just a newb but I do really like you know.
I hope we see each other again someday.
I'm Dancing With Tears In My Eyes Babe

The Final 8!
Edit This is a message to inform you your tribute made it to the Final 8 in the 20th Annual Hunger Games!


BaconCanadian (talk) 04:53, August 22, 2013 (UTC)
Lunaii Comp
Edit
SUMBIT YOUR LUNAII PLZ ;-;
http://thehungergames.wikia.com/wiki/User_blog:RainAndFire/Lunaii_Competion_c;
srsly bro?
Edit
Get back on chat 'cuz I has a suggestion for Wes' POV that you can do and fix dis. Hurryyyyy Everyone needs their Rainie <3 20:49, December 27, 2013 (UTC)
I want an update in the hp fanfic ;-; Pwease? ;-; Everyone needs their Rainie <3 22:34, December 31, 2013 (UTC)
On behalf of Adrian I would like to remind you that his RP has started and that you must post in the next 24 hours otherwise you will die. RainbowShifter 10:12, January 3, 2014 (UTC)
So if you are reading this it's because at some point of my life in this wiki has been pleasant thanks to you and I want to thank you for it, even if you are innactive or left... Anyways if you read this it's because I want you to be part of my final memory of this wiki in form of games... User blog:District3/The Conclusion Games
Thanks for all this wonderful time <3, Joan
I'm Dancing With Tears In My Eyes Babe

What is ur problem ?
Edit
Why are you acting like a jerk to me ?
Travis Lane (talk) 19:58, July 12, 2014 (UTC)