Welcome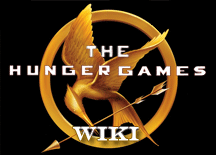 Greetings, Saquan Shivers!
Welcome to The Hunger Games Wiki! Thanks for your edit to the Cato page. I hope you enjoy it here and decide to stay.
Before editing, be sure to read the wiki's policies. Please sign your name on talk pages using four tildes (~~~~) to automatically produce your name and the current date. Be sure to verify your e-mail address in your preferences. If you have any questions, check out the Community portal or ask me on my talk page. Again, welcome! -- TagAlongPam (Talk) 08:37, September 27, 2012

Please don't do it again
Ranger1434 (talk) 01:51, January 1, 2013 (UTC)

Ehmm Hi, the top dog of this wiki, User:TagAlongPam is not liking the number of pics on the page. He removed the pics from Cato's page, and I think it is best if you keep them off.
Doo Doo Doo Doo..... 03:46, January 1, 2013 (UTC)
Hello
please do nt add false images or fannon to the pages. thank you. only pictures from offical sources are alowed.  if you feel this warning is in error, please feel free to cite your source, and re-add the picture.

Wingman1 17:22, September 6, 2013 (UTC)
Duplicate images
There is no need to keep reuploading the same image of the victors banners. The picture which you just uploaded is already on the wiki, please use the existing file. RainbowShifter 17:54, September 6, 2013 (UTC)
Please do not upload any Duplicate images, i relise you may not know that any given images is all ready on the wikia, but you are uploading  duplicate images that YOU uploaded yourself. please do not do this any more. if you have any questions or issues regarding uploading images please feel free to contact ANY admin and we will be glad to help you.

Wingman1 01:52, September 7, 2013 (UTC)