Welcome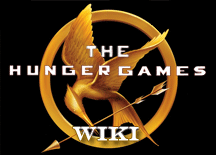 Greetings, Sgirl11!
Welcome to The Hunger Games Wiki! Thanks for your edit to the User blog:SuperTomato/The 222nd Annual Hunger Games page. I hope you enjoy it here and decide to stay.
Before editing, be sure to read the wiki's policies. Please sign your name on talk pages using four tildes (~~~~) to automatically produce your name and the current date. Be sure to verify your e-mail address in your preferences. If you have any questions, check out the Community portal or ask me on my talk page. Again, welcome! Iluvgale (talk) 16:35, July 2, 2013 (UTC)

Hey, It's Anna! I was wondering if you are still going to keep up with my Hunger Games, I was on a long vacation, but I'm back now! Hope you keep up with them! Anna Black (talk) 21:35, August 8, 2013 (UTC)
199th Hunger Games with a Twist
I need alliances for your tributes. Otherwise, they'll all be loners unless from a Career district.
WiressFan21 (talk) 02:28, August 23, 2013 (UTC)