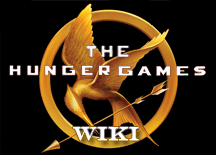 Greetings, VarinEgo!
Welcome to The Hunger Games Wiki! Thanks for your edit to the User blog:Rainbow Shifter/3rd Pain Games- Part 1 page. I hope you enjoy it here and decide to stay.
Before editing, be sure to read the wiki's policies. Please sign your name on talk pages using four tildes (~~~~) to automatically produce your name and the current date. Be sure to verify your e-mail address in your preferences. If you have any questions, check out the Community portal or ask me on my talk page. Again, welcome! -- BrokenSphere (Talk) 19:57, June 17, 2012
Your Games
Edit
Hey, can Esorellia, Maysilea, or Aria have a love interest in your games?(:
Katelyn.danita 04:50, June 19, 2012 (UTC)
That'd be great! I have an idea for love interest and I just needed the characters! Thanks!
VarinEgo 12:42, June 19, 2012 (UTC) Varin Ego VarinEgo 12:42, June 19, 2012 (UTC) June 19
Gamemaker
Edit
Hey! Anyways, you signed someone up to be a Gamemaker for my sim, so could you help me make my arena here, if it's not much of a bother? TheOneandOnlyDistrict3 (talk) 21:13, July 13, 2012 (UTC)
Well, Young'un... xD
Edit
The Games'll start in a day or two, kk?
TheOneandOnlyDistrict3 (talk) 23:22, July 29, 2012 (UTC)
Hi its me!! Thanks for submitting your gamemaker! Here is the page where we will discuss our plans.
http://hungergamesgamemakerscoolcato.wikia.com/wiki/Gamemakers
GameMaker
Edit
Hey!! I signed up to be you'r GameMaker and I Don't know where to disscuss it with you so umm.. Meet me on chat if u Can.
-Dave
Sorry aha
Edit
I cant comment on them either or anyone elses page so im not sure whats worng :/ Ill post those tributes yup. Obviously aha,
Hi Varin it is Brock292 I am sorry but the District 9 spot already got Reserved by the time I read your message but please feel free to pick another
~ Brocky292
Sandra Bufferty
Edit
Done. :) Thanks for making the page! Necterine411 Questions? Comments? Concerns? 04:01, August 15, 2012 (UTC)
Come on chat one you asee this (: CloveEgo (talk) 03:07, August 28, 2012 (UTC)clove(:CloveEgo (talk) 03:07, August 28, 2012 (UTC)
Congrats! Your tribute Garrett Henderson won my first annual hunger games! Hope you are interested in joining my other games in the future(:
~RueMellark7
Do you have a date for Mysims' prom? Cuz I'm pretty much forever alone XD . I know you don't know me but still I NEED FRIENDS ON THIS WIKI. So you're my first victim *ahem* person I would like to befriend. My name is Dahlia --ShimmeringFire (talk) 01:41, September 2, 2012 (UTC)
Re: Reporting an abuser
Edit
I didn't get your message until now. Next time take a screenshot if you can (or if you can't, see if another user will). -TagAlongPam (talk) 11:07, September 5, 2012 (UTC)
I can't do anything about misbehaviour on other wikis, only this one. I banned the user who was causing trouble here.

-TagAlongPam

(

talk

) 01:39, September 6, 2012 (UTC)

Hiya, Varin!
As you know I am writing my 100th annual hunger games, but
I already started sign-up for the next one.
You wrote that you wanted me to write to you when I made my new game, so here you go. Thank you for all your nice comments, Varin :D
Here is the link, I really hope you will join:
http://thehungergames.wikia.com/wiki/User_blog:Annamisasa/The_101st_annual_hunger_games/Anna%27s_third_Hunger_Games?s=wl#WikiaArticleComments
Trying to be someone else is a waste of the person that you are (talk) 14:16, October 19, 2012 (UTC)