Victors
Talk

11
390pages on
this wiki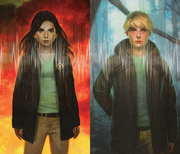 Victors are tributes who have won previous Hunger Games. Because of this, they receive income from the Capitol for life, are given a special status in their districts, and are allowed to live in the part of their district called the Victors' Village with their families. In return, victors must act as mentors to subsequent tributes from their district in future Games. They line up sponsors, control the flow of gifts, and have a say in the tactics that the tribute uses. They must not mistreat their tributes. If a victor is considered highly desirable, they may be forced to become a pawn in Capitol politics, as was the case with Finnick Odair, who was used as a sexual bargaining chip by President Coriolanus Snow.
Many victors turn to alcohol or drugs after they have won their Games. Some examples can be seen with Haymitch Abernathy and his heavy drinking, and the morphlings from District 6. They do this because of the traumatic experiences and memories of the Games. Also, because the chances of winning tend to be skewed in favor of the Career Tributes, victors from poorer districts have to watch the tributes who they have personally trained as mentors die.
In the 75th Hunger Games, past victors are forced to compete in the Games "as a reminder to the rebels that even the strongest among them cannot overcome the power of the Capitol." This was difficult for them because, as fellow mentors, many of the victors knew each other well.
The Victory Tour
Six months after the Games, a Victory Tour is held to keep memory of the Games fresh in everyone's mind. They start off in the highest numbered district and count down, skipping the victor's district and saving it for last. In each District, they give a speech and attend a dinner. The Capitol throws a huge feast for the victor's district where all the residents attend.
Known Victors
There have been 75 victors throughout the history of the Games. By the end of the Second Rebellion, only seven victors are still alive. They are Katniss Everdeen, Peeta Mellark, Johanna Mason, Beetee, Haymitch Abernathy, Annie Cresta, and Enobaria. Sixteen died of natural causes, 18 died in the 75th Hunger Games, and the other 34 died during the victors' purge and rebellion (some may also have died due to old age prior to the rebellion).
Victor
District
Fate
Date of Games
Age
Strategy
Mags
4
deceased
Unknown (7-14)
80's
Ability to make fishhooks out of anything. She also lived off of non poisonous nuts.
Woof
8
deceased
Unknown (12-18)
Unknown (Estimated Mid 70s)
Unknown
Seeder
11
deceased
Unknown (27-33)
About 60
Hunger (able to go without food for longer periods of time, resulting in the other tributes slowly starving to death)
Beetee
3
living
Unknown (32-38)
50s - 60s
Won using an electrical trap on remaining Tributes
Haymitch
12
living
50th
40 HG

41 CF/MJ

Used a force field to deflect attacks in the final showdown, and through an alliance with Maysilee Donner
Morphlings
6
deceased
Unknown (22-28)
60's
Were very skilled with camoflauge
Chaff
11
deceased
45
Mid 40s
Unknown, lost one of his arms in process
Lyme
2
deceased
Unknown
Middle Aged
Unknown, maybe a career alliance.
Brutus
2
deceased
Unknown (39-44)
Mid 40s
Was a career
Wiress
3
deceased
Unknown (48-49) ,(51-54)
Early 40s
Unknown, possibly using electicity or observations.
Cecelia
8
deceased
Unknown (57-61), (63)
About 30
Unknown
2
living
62
30
Used brutality, hand to hand combat, and her own teeth to her advantage (ripped other tributes throat out)
Blight
7
deceased
Unknown
Unknown
Unknown
Cashmere
1
deceased
Unknown (57-61, 63, consecutive with Gloss)
Late 20s
Was a career
Gloss
1
deceased
Unknown (57-61, 63 consecutive with Cashmere)

Late 20s

Was a career
Finnick Odair
4
deceased
65

24 (CF)

25 (MJ)

Was a Career; he was given the gift of a trident in the arena.
Annie Cresta
4
living
70

Early 20s (20-22)

Was the best swimmer during a flood in the arena.
Johanna Mason
7
living
Unknown (most likely 71 or 72)
Early 20s
Acted weak to divert attention; when a handful of players were left, she then killed viciously.
Katniss Everdeen
12
living
74

16 (THG)

17 (CF/MJ)

Bow and Arrow. Used suicide threat to force the Gamemakers to let her and Peeta both win.
Peeta Mellark
12
living
74

16 (THG)

17 (CF/MJ)

Camouflage. Used suicide threat to force the Gamemakers to let him and Katniss both win.