Woof
Talk

1
426pages on
this wiki
Woofwas the District 8 male tribute who participated in the 75th Hunger Games, as well as the victor an unspecified Hunger Games. He was a mentor for District 8 tributes who competed after him even though he is said to be senile due to his old age. He was also the second oldest tribute to participate in the Games, behind Mags.
Biography
Edit
Woof won the 17th Hunger Games. After being reaped to participate in the third Quarter Quell alongside many other past victors, including fellow District 8 tribute and victor Cecelia, Woof was brought to the Capitol.
The Games
Edit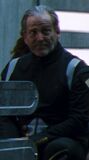 During training, Woof stayed close to Cecelia and early on, the pair invited
Katniss
to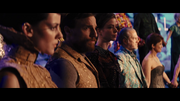 join them at the edible bug station. It seemed to Katniss that Woof was oblivious to what was happening, as he kept trying to eat poisonous bugs rather than safer ones. Katniss thought he was hard of hearing thus she decided he would be a bad choice for an ally. When the tributes are waiting for their private sessions he is seen talking to Cecelia and when Beetee is called you can see him look up and laugh.
Interview
Edit
He wore matching green and white suit and pants in the interviews. Woof joined hands with the other twenty-three tributes as a sign of rebellion in the interviews.
Woof was killed in the initial Cornucopia bloodbath. He was situated next to Katniss on the pedestals in the book, however not in the film, he was stationed next to Enobaria. When Katniss is running on the one of the spokes she looks to the left, when she does you can catch a glimpse of him falling off of his plate. He presumably fought for supplies, nonetheless he was brutally killed by Brutus, who threw a spear to his leg making him fall into the water and drown. In the film he survived for 1 minute 4 seconds.
After the Games, Katniss eventually found out that Woof was part of a secret alliance to keep her alive, along with 11 other victors.
Physical description
Edit
Woof was described by Katniss as being old, much like Seeder and Mags, who was hard of hearing and had started to lose his ability to focus. He was generally not seen as a threat, and was killed quite fast. It can also be assumed that he couldn't swim, due to the time it took for him to get to the Cornucopia.
Film portrayal
Edit
John Casino portrayed Woof in The Hunger Games: Catching Fire.
It was discovered from a leaked photograph from the Mockingjay set of names of victors from various districts. One of these reveals that Woof's last name is Casino, the same as his actor. The design of the podium as well as the use of the actor's last name as the character's match up with what the film makers did with Mags.